Three-Time Olympian Laura Coenen Ryan Continues To Carry The Olympic Torch Forward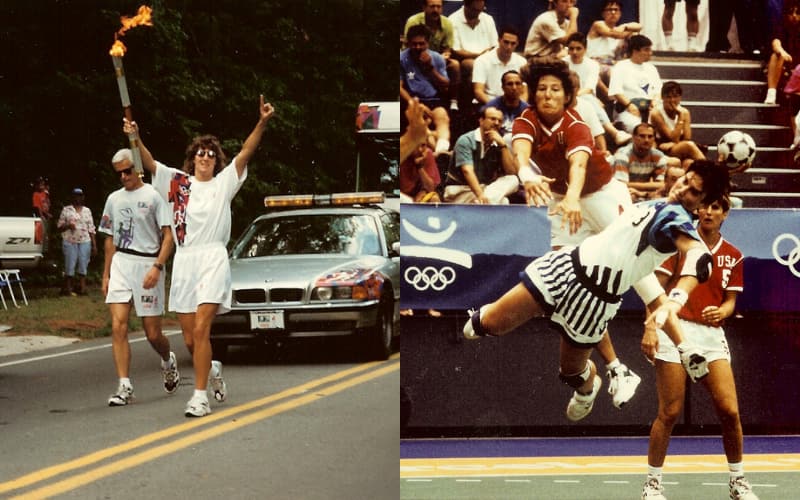 Laura Coenen Ryan has never really left the Olympic Movement.
From competing as an athlete, to working for the U.S. Olympic & Paralympic Committee, to volunteering for the newly opened U.S. Olympic and Paralympic Museum, Ryan has spent her entire adult life participating or working in the Olympics and does not intend on stopping.
"I just want to be involved because you get out of that feeling of camaraderie and pride if you're not working in the sport or involved in the Olympic life," Ryan said. "I wanted to get back into telling people about the Olympic experience."
Ironically, Ryan is hesitant to share that she participated in three Olympic Games as an athlete and helped organize one more.
"I don't try to share it in conversations. If you're in an athletics situation and you share that information, people expect you to be one of the top athletes in the world," Ryan said, who also helped the U.S. win gold medals at the 1987 and 1996 Pan American Games. "They expect you to be really good and they try really hard. Everybody wants to beat you. Sometimes, I just want to stay active."
Ryan's primary sport was basketball. She competed at the University of Minnesota, becoming the first Gopher to score 2,000 points in her collegiate career. She also earned All-Big Ten and All-American honors before graduating and her jersey number #44 was eventually retired by her alma mater.
Her successful career at Minnesota led her to compete in professional basketball overseas. There, Ryan was exposed to handball for the first time.
"I went to one of the biggest handball tournaments in Germany when I was playing there," Ryan said. "I thought 'Oh, I've never seen this before. I don't think we have this in the U.S.' because I had never heard of it before and had never played it before."
After a year of professional basketball, Ryan decided to move back home. Dorothy "Dot" Franco-Reed reached out to Ryan, who had met Ryan at Minnesota, asking if she wanted to play handball.
Ryan, despite never having played, accepted the offer and started training to play handball. A few weeks later, she was offered a spot on Franco-Reed's team at a handball tournament in Ohio.
"We all just jumped into a car and drove to Ohio," Ryan said. "They threw me in the goal and I did okay. I was lucky enough to pick things up quickly."
After the tournament, Ryan was offered a spot in the USA Team Handball national team program and was asked to move to Colorado Springs to train.
"I went out to [Colorado Springs] for a two-week trial and then ended up going on a seven-week international tour with the team as a goalie," Ryan said. "I was very fortunate because I was only supposed to be touring for four weeks and I was only supposed to be on the team to observe. One goalie got hurt and another goalie had to leave the team, and so the beginner – me – was all they had. I had to spend a couple days trying to get a visa but I made it to Russia for the Goodwill Games and got to play."
After just a few months removed from playing professional basketball, Ryan was able to make a very quick transition into training for handball. She credits her relatively easy transition to a new sport to her experiences with basketball in Europe.
"Basketball helped me transition into handball because I got the special experience of going overseas, seeing the different cultures of Europe and learning about handball," Ryan said. "It also helped me make some friends that ended up helping with the transition from living in the U.S. to Europe and move from European basketball to handball. Being adaptable is important. You have to go with the flow."
And, just two years removed from playing professional basketball in Germany, Ryan appeared to have adapted pretty well, as she made the United States roster for the 1988 Olympics in Seoul, South Korea, where the women finished eighth.
---
Ryan continued to compete internationally, participating in the Olympic Games in 1992, and 1996 as well, and was even selected to carry the Olympic torch through Atlanta in 1996, leading up to the Opening Ceremony. During that time, Ryan began talking to the event organizers, who worked behind the scenes to ensure that the Games went smoothly. She enjoyed hearing about their work, so much so that she thought she had found a new career path.
"If I hadn't gone through the Olympics, I definitely wouldn't have known the organizing side of the events, since I was on the athlete side," Ryan said. "I got to know a lot of people and listened to what they did and I thought, 'This is what I want to do.'"
After competing in the Atlanta Games, Ryan went to work for the Colorado Springs Sports Commission and the United States Olympic Committee (now the U.S. Olympic & Paralympic Committee), working on everything from local events and sports based in Colorado Springs to the 2002 Winter Games in Salt Lake City (she also got a second run with the Olympic Torch in 2002).
She found that her experience as an athlete helped her transition into event planning in a few ways.
"When you're training [as an athlete], you definitely have to manage your time," Ryan said. "When I went into work and had a big event to plan, it was all about managing your time and making sure the cogs were all matching up. I needed to make sure that we all got along, that it went smoothly, that everyone felt important and that we were all shooting for the same goal."
Ryan's work with the USOPC also led her to the Paralympic Movement and the Paralympic Military Program, adding an even broader level of sport experience to her resume. She became associate director of the Paralympic Military Program at the U.S. Olympic and Paralympic Training Center in Colorado Springs.
"When I was brought on, there were only a handful of people working on the Paralympics because the USOC had just started the program," Ryan said. "We had the vision to start bringing in top coaches for Paralympians and putting together training camps and training programs. Once we had a budget, we started working with NGBs. We started to get higher-level coaches. The athletes loved the new, more competitive nature of the program."
After helping to build up the Paralympic program, Ryan took a break from the Olympic and Paralympic world. But she missed it enough that she decided to get involved again, this time with the U.S. Olympic and Paralympic Museum in Colorado Springs.
"I wanted to get that sense of being part of the Olympics back," Ryan said. "I wanted to relive some of the Olympic dreams. When you start reading some of the things in the museum, you can relive some of those moments. You can go back to your Olympic experiences."
It should come as no surprise that she is involved in yet another Olympic organization, considering Ryan has twice carried the Olympic torch, participated in three Games, and dedicated so many years to the values of the Olympic and Paralympic movements. Ryan is involved in the Guest Experience team with the Museum, where she can impart her passion for sport with visitors through her stories.
After all, she has plenty of Olympic experiences to share.