Where Are They Now? Catching Up With 1984 Olympian Tom Schneeberger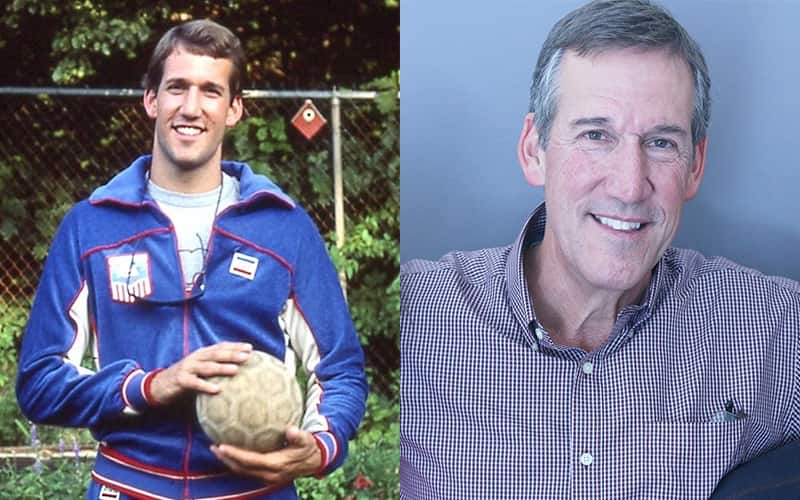 USA Team Handball caught up with 1984 Olympian Tom Schneeberger, the only USA Team Handball player to also have been drafted by a team in the National Basketball Association. Schneeberger was first introduced to handball in high school, but became more involved in the sport at the United States Air Force Academy while captaining the basketball team.
Schneeberger was part of an "all-star handball team" from the Academy that competed at a USATH National Championship. After the tournament, Schneeberger was invited to try out for the 1976 Men's National Team. He continued his handball training over the following years, even after being drafted by the Denver Nuggets, and was eventually named to the 1984 Olympic handball team.
Take a look at our Q&A below to learn more about Schneeberger, his handball memories, and the years since his athletic career.
Give us a brief overview of what life looks like for you nowadays:
TS: I'm on the verge of going into my next phase in life: retirement. I just received fantastic news in the last couple of weeks – that my middle son, Justin, and his wife are expecting their first child. This will be our first grandchild and the timing for my wife, Carol, who is a mortgage lender at Bank of Colorado and I couldn't be better. In the next few months, we're going to retire from work and become grandparents. We're really looking forward to the flexibility that comes with that.
Family is so important, especially in this time. We've been very fortunate to have our middle son move back to Denver, during the pandemic, while our oldest son lives in Austin, Texas. Almost two years ago, I performed the wedding ceremony for my eldest son, Taylor, and his wife. They had asked me to do the ceremony, and I thought, 'what better wedding gift to give to them than that?' My youngest daughter, Anna, is teaching in Greeley, Colorado, so two of my three kids are nearby and we have been able to safely travel and visit each other over the past year. I think this pandemic, while very challenging, has brought us closer together.
I live in Fort Collins, Colorado and work for a manufacturing company called Advanced Energy. I got the connection from a close friend and teammate from the 1984 Olympic team, Bob Djokovich. Bob was the best man at my wedding and I was the best man at his wedding. We also played basketball together at the Air Force Academy. We worked together for a number of years together here in Colorado.
Can you tell us a bit more about your role at Advanced Energy?
TS: I'm the Director of Customer Satisfaction. In terms of my role, what I actually do is handle all of the escalations from our customers regarding how our product is doing in the field. They contact me and I open the escalations with them to make sure that they're satisfied with our product.
What drew you to handball and what made you want to pursue it seriously?
TS: I had a bit of an introduction to it in high school. We had a gym class that focused on team sports, and my teacher taught us team handball. We taped a 6-meter line on the floor and a goal on the wall, and played with one of those red utility balls. I could always throw a ball or play dodgeball pretty well, so I thought, 'this game is too easy, all you have to do is throw the ball as hard as you can and hit the goal.' The culmination of that was at the 1984 Olympics in Los Angeles. That same gym teacher had volunteered to work the Games and I ran into him there. I told him he introduced this sport to me and it took me all the way to the Olympics!
In addition to me and Bob, there were a few really good athletes at the Air Force Academy who were playing handball as well. We practiced outside on grass and played without any contact. We put together a team to compete in USA Team Handball's National Championships. The athletes there were playing very physically. Regardless, we ended up tying a team that we later found out consisted of many national team athletes. We caused a little commotion with our team's success and a number of us were contacted immediately following the tournament to try out for the National Team.
In 1976, just prior to the Montreal Olympics qualifications, I was asked to skip final exams to go to Iceland and try out for the 1976 Olympic team. They were putting the finishing touches on the roster and had invited some people to try out. I just missed out – but now I had the handball bug. I had come so close, so me and many of the other guys became more interested in the sport. We thought it was a great sport. I was part of the national team in 1980, the year the U.S. boycotted the Olympics in Moscow, and stuck with it through the 1984 Games, even though I was juggling two sports, basketball and handball, at the time.
What was it like juggling both sports? Do you think there were any ways that the training from one sport helped or improve your training with the other?
TS: I just loved to compete and play sports when I was at the Air Force Academy. Basketball was always my first sport, but handball was great and I had a lot of fun doing that. I was one of those guys who was completely surprised when I was drafted by the Denver Nuggets. I always thought that it wasn't realistic to assume I'd get drafted, because that's pretty hard to do. It ended up happening for me, but I had a five-year commitment to the Air Force and couldn't juggle that.
In 1979, I was in graduate school at the University of Michigan and we were looking to qualify for the 1980 Olympics, so I joined back up with a handball team. It was challenging for me since they had already been practicing together for a while. Athletically, I could do it, but it was all the teamwork and playmaking that I didn't have as much experience with.
What positions did you play in basketball and handball?
TS: I played a lot of positions, but in basketball, I was more of a natural small forward or power forward. In handball, my natural position was left back, but on our 1984 team, we had Pete Lash, who was very good in that position and had a great shot. So I was able to go in and play what we call a circle runner or, as it is known in Europe, the pivot position. I could catch the ball and play defense. I transitioned from doing the shooting to setting the picks and 'getting the garbage' at the circle runner position.
What aspects of handball were difficult to pick up? What was similar to what you were already doing in basketball?
TS: I personally found that the transition from basketball to handball wasn't too hard. The extra step that handball allowed was easy and I found it pretty intuitive to switch back and forth. I always was thinking about how many amazing athletes in basketball we should recruit over to handball. Both sports really involve vision and being able to anticipate your teammates' moves. You need to be one step ahead of the play, which is something that I carried back and forth between sports. I see it in all the team sports; the vision and the anticipation is really important. I think those are key attributes to have. You also have to be a team player for both; you should be capable of sacrificing yourself for a teammate to go and score.
Did you spend a lot of time at the Olympic Training Center while you were with the team?
TS: The only way we could get real good competition and get ready for the Olympics was by traveling to Europe. We had our home base in Colorado Springs, where I was already living and working. It was a really great time as far as the team coming together and training together daily. We would have two or three practices a day, with the morning workout often being a run around Prospect Lake. In our second practice, we'd get into strength training or plyometrics. But the facilities in Colorado Springs were great for our training and we had a lot of fun too.
What was it like to finally experience the Olympics in 1984? What were some of your favorite memories from the '84 Games?
TS: I think the qualifications gave me a preliminary taste of what the Games would be like, with me just barely missing the 1976 team and then missing the 1980 Games due to the boycott. In 1984, I had only been training for nine months with the team before the Olympics. As the host country, the Americans were the last to enter the stadium for the Opening Ceremony and we were waiting hours before we could walk out.
Then, we finally started walking into the tunnel and the crowd was starting to get really excited. They were politely applauding the other countries, but were going into a frenzy when we came out. It was so cool to come around the corner at the stadium and look up and see my mom, dad and my teammates' parents, who we all had great relationships with.
Are you still in touch with your teammates from handball and the Games?
TS: We usually stay in touch through email, and we are really good at getting together maybe once a year. We have unbelievable participation in the Olympic and Paralympic reunions that we've had, which has been a lot of fun. Team handball is always represented very well. We go up and introduce ourselves at the reunions, and the crowd goes 'oh, not another handball athlete!' We are great, lifelong friends and teammates and they are all great people.
How do you feel about the Olympics being back in LA in 2028?
TS: It's very cool. Some people ask me if I was disappointed that my Olympics were in the U.S. and I didn't get to travel. My answer is no. We still got to travel and experience the world through handball, but we also got to experience a really special privilege of being the host country for the Olympics. Looking forward to 2028, now I don't have any excuse not to go to the Olympics when they're in Los Angeles. I think it's great that any city in the U.S. - but especially LA - would get to host another Olympics.
You also served as a representative for handball with the United States Olympic & Paralympic Committee. How would you like to see handball continue to grow?
TS: When people find out I competed in the Olympics and ask what sport I played, I say 'team handball' and they usually assume its the kind of handball where you hit a ball against a wall. I have to explain that this is actually a huge sport in Europe and provide them with some education on the sport and its history.
For the United States, there is such a challenge because there are only so many major sports that you can watch, which means that getting attention and resources for handball is hard. I always thought that if we could reach out to underserved communities and share these opportunities with them early on, then we could bring in a lot more people.
What advice would you give to athletes who have had their training interrupted by the pandemic?
TS: I had a bit of a similar experience in 1979 and 1980, when we were training for the Pan American Championships in Mexico City. I was in graduate school at the time with nobody there to play handball with. I would go to the gym and start throwing the ball against the wall. I kept working on my moves, even though I had no one to play against.
You just have to have the discipline and find the time to do the things that you can do for training and keep yourself in shape. It's a challenge, especially because you can't just go and get a pickup game going. Back in graduate school, I actually would go cross-country skiing in Michigan because it was good aerobic exercise and I knew that if I couldn't play and hone my skills, I could at least be in the best shape possible. For our current athletes, there will be a time when you will be able to leverage your work and it will pay off.
If you were talking to a young basketball player and trying to get them to transition to handball, what advice would you give?
TS: The biggest thing is, 'what bigger athletic goal or accomplishment is there than representing your country, traveling, competing, and then ultimately getting to the Olympics?' They could be part of the team that breaks through and earns the very first medal for the U.S. in handball. They could be visible to the European club teams and take advantage of the great handball opportunities in Europe. The ability to represent your country in world championships and Olympics is pretty cool. All of those things will earn you a lot of respect and really take your athletic career to the next level.