Where Are They Now? Catching Up With 1996 Olympian Derek Brown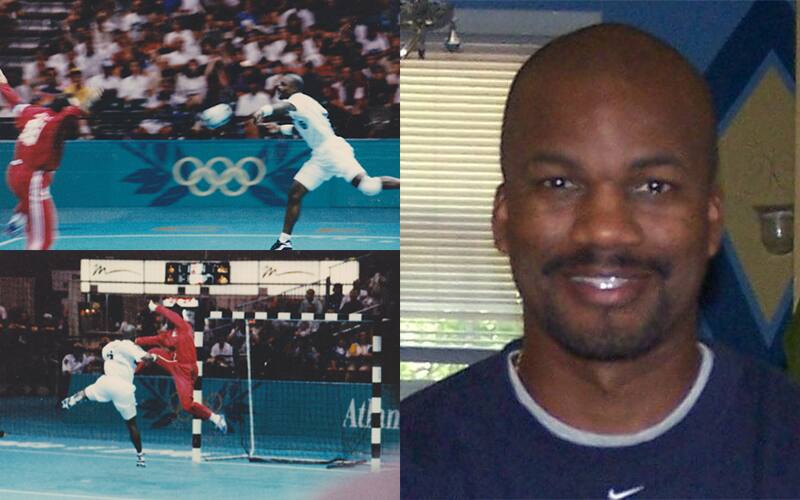 USA Team Handball caught up with 1996 Olympian Derek Brown, who first discovered handball as a collegiate track athlete at LaSalle University in Philadelphia, when the U.S. National Team was training at LaSalle. Brown befriended some of the handball players and was invited to join a practice. After a week of playing with the team, he received an invitation from the coach to join the U.S. National Team. Brown went on to compete in the Atlanta 1996 Olympic Games as a member of USA Team Handball.

Take a look at our Q&A below to learn more about Brown, his handball memories and the years since his athletic career:
Give us a brief overview of what life looks like for you nowadays:
DB: I live in Fort Washington, Maryland – just outside of Washington D.C. – with my wife and three children. We will be celebrating 21 years of marriage in November. We have two daughters who are 19 and 16, and a 13-year-old son.
Since March 2016, I have been working as a Facilitator/Trainer for Nissan. I cover the Mid-Atlantic region, training Nissan Sales Teams on Nissan products, customer engagement and overall sales practice.
I try to stay consistent with working out but not like when I was an elite handball athlete, haha! I play golf and do a lot of bike riding. I still have not ventured back into gyms since COVID-19.
How did you first get into handball?
DB: I was first introduced to handball in 1993, which was my senior year at LaSalle University in Philadelphia. The U.S. Men's National Team moved from Colorado Springs to Philadelphia and was actually housed on LaSalle's campus.
It was during my outdoor track season that I noticed some of the handball players in the gym working out and playing basketball. I became friendly with a few of them and they would invite me to come watch practice and consider trying it out. While I was still in-season for track, I would listen but I had to stay focused on competition.
It wasn't until the week before my graduation that I finally went to watch them practice and the coach invited me to join them. I practiced with the team that entire week and I guess the coach saw enough raw talent in me that he invited me to join the national team. I informed him that I was about to graduate and move back home to Washington D.C. to work for an insurance company. He left the invitation open and we parted ways.
That entire summer, I was in regular communication with LaSalle's sports doctor, who was integral in bringing USA Team Handball to LaSalle. He kept updating me on the handball team's happenings, so much so, that the seed started to blossom.
In September, I informed my parents that I wanted to move back up to Philadelphia to give handball a shot. I packed my bags, loaded my car and drove back to LaSalle University to join the team…the rest is handball history.
How did you first get into your current career track/profession?
DB: I worked for many years in education, specifically for the District of Columbia Public Schools System. I held several positions in academic support, including a stint as a Vice Principal of a high school. It was a fulfilling experience, but also very challenging.
I took a break from education to pursue some other avenues that didn't work out in my favor and eventually, in the fall of 2014, I landed in a Nissan dealership as a sales consultant. After 18 months, an opportunity to become a facilitator/trainer for Nissan was presented to me and I jumped at the chance to expand my education background. Since the spring of 2016, I have been enjoying my days as an NBEST Facilitator/Trainer for Nissan.
Do you feel like you use any parts of your Olympic experience/values in your everyday life?
DB: Dedication, commitment, accepting failure, overcoming obstacles and barriers, finishing what you've started, never giving up nor giving in, doing your best and never settling for less, and having no regrets – all of these values and more have been integral aspects and mantras throughout my life and have been life lessons that I've imparted in my children.
Life is not easy nor fair, but we have to endure until the end. Talent can take you far, but dedication and commitment toward improvement, developing those skills and seeking to perfect your craft will take you to unimaginable heights.
Are you still involved in the handball community/do you still see any teammates?
DB: I have recently decided to become more involved within the handball community. During my 20+ years as a national team athlete, my focus was solely on being the best player possible. When those days were no more, I did not know where my next place of influence would or could be with handball.
Leadership transitions and uncertainty made it easy for me to fade into the shadows. Additionally, I needed to be convinced that the best interests of handball were at the forefront before I invested my time again.
I trained and played with the DC Diplomats Handball Team for a few years. That was a fun time getting to know those players, men and women, and representing my hometown with a handball team. I also have attended a few tournaments as a spectator over the years. I just recently enrolled in USA Team Handball's Referee Education Program to finally answer the call to become a handball referee – a call that was made to me about 15 years ago.
I have stayed in contact throughout the years with my national team and Olympic teammates. We have come together for reunions, and recently Zoom Meetings, to stay close and connected.
What are some of your favorite memories from the Olympics?
DB: There are so many, but I will share a few. The Opening Ceremonies were amazing, even though we waited over three hours to enter the stadium since we were to enter last as the host country.
Walking into the stadium with my teammates and fellow U.S. Olympians, and seeing the tens of thousands of people in the stands cheering was an absolutely extraordinary moment. Watching the Olympic torch get passed and then seeing Muhammed Ali at the top to light the cauldron stills gives me chills to this day.
Oddly, the Olympic cafeteria was a special place. We encountered every athlete and every country in that area, and it didn't matter where we were from. We had one thing in common: we were hungry. I remember plenty of great times in the cafeteria.
After badly straining my hamstring during our first Olympic match against Sweden, I really didn't think I would be able to play anymore, or at least not at my best. I did not dress for our second game the next night against Russia.
I was in the training room all day during our off day and leading right up to our third match against Croatia. They wrapped my leg, gave me about 2000 milligrams of pain medication, and I stepped on the court. Thankfully, I was able to play, and play well, with my teammates during that match and all of the remaining ones. I am so glad my Olympic experience didn't end with that injury.
Where would you like to see the sport go in the next few years, especially leading up to the LA 2028 Games?
DB: It has always been my hope and desire that handball breaks through and rises out of the basement of unknown sports or the status of being 'the best sport you've never heard of'. We have yet another opportunity with a Summer Games on U.S. soil, so it is incumbent on all of us in the handball community, not just the American handball community, to make sure that we are truly building a product that will sustain, grow and attract others to play and get involved.
The right infrastructure for handball in America doesn't merely culminate with other Olympic Games coming and going, resulting in regression and stagnation. The right infrastructure consists of a program that sees past the 2028 Games and establishes deep roots within the U.S. where children and adults can play competitive handball.
We need to create serious handball leagues and grow coaches and officials with strong programs and certifications. I want to see handball as a recognized high school and NCAA-sanctioned sport. Now is the time to 'do more' and not settle for less.
What sort of advice would you give to USA Team Handball's national team athletes who are currently at home and unable to compete due to Covid-19?
DB: Stay focused. Stay ready. If you stay focused and stay ready, you don't have to worry about getting focused and ready. Keep working out, cross training, staying flexible and doing handball-specific exercises. You will be back on the court soon.
Most of all, be true to the game – learn the game, learn your place in the game, learn how to be better in the game. Being a good athlete isn't enough; be a great handball player.