Jennifer Fithian And Mark Ortega Join USA Team Handball Board Of Directors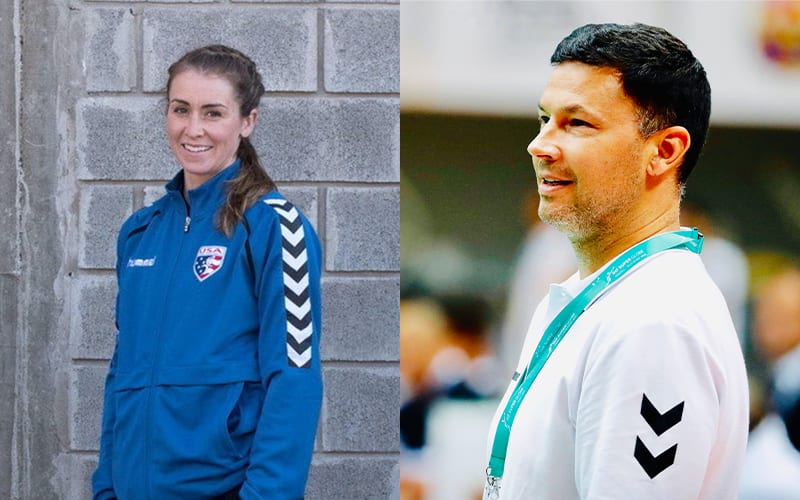 USA Team Handball today announced the appointment of Jennifer Fithian and Mark Ortega to its Board of Directors.
"I am delighted to welcome two longtime members of the USA Team Handball community, Jennifer and Mark, to our Board in 2021," said USA Team Handball President and Chair Michael Wall. "It's very apparent that both individuals are incredibly passionate about handball and dedicated to our sport's growth in the United States. I am confident that they will contribute largely to our efforts moving forward."
Both Ortega and Fithian will begin serving on the USATH Board of Directors starting in January of 2021. Ortega was elected as the next U.S. Olympic & Paralympic Committee (USOPC) Athletes' Advisory Council representative and Fithian will serve as the alternate representative.
"I am thrilled to be given this opportunity to serve as a USATH Athlete Representative and work on behalf of all of our athletes," Fithian said. "I am looking forward to getting started in January."
Ortega will be filling David Thompson's position, as Fithian will fill Sarah Gascon's. USA Team Handball's Board of Directors will hold an election for the beach athlete representative seat in the near future.
"It's great to communicate with athletes about how we can voice their concerns to the Board," Ortega said. "This role is a privilege and I am honored to follow David Thompson after his many years of service to our sport."
Fithian has been a member of the U.S. Women's National Team for almost 15 years, playing in over 85 international matches and numerous other competitions and friendlies throughout her career. She is a two-time Pan American Games attendee on behalf of USA Team Handball, competing in both the 2011 edition in Guadalajara, Mexico and the 2019 edition in Lima, Peru.
Fithian played handball professionally in Germany from 2009 to 2012 before moving back to the United States to start a family with husband and fellow Team USA handball player, Jordan Fithian. Their two children, Charlotte Mae, born in 2013 and Jackson, 2016, did not keep her from the competitive stage as she was able to continue to play and contribute to the national team when allowed.
Fithian's desire to continue to represent the United States on an international stage has never wavered. Most recently, she made her coaching debut in October of 2019 in Montreal as the head coach of the Women's Junior National Team. She currently resides in Concord, New Hampshire and serves as the head basketball coach at St. Paul's School, where she also works as the Director of Parent Engagement. Fithian earned her bachelor's degree in Financial Economics from Binghamton University in New York, where she played four years of Division I basketball.
As an athlete, Ortega played 100+ international games with USA Team Handball. His playing and coaching career includes two Pan American Games in 2011 and 2019 and four Pan American Championships from 2004 to 2020. He served as captain of the U.S. Men's National Team from 2009 to 2014 and became an International Handball Federation Master Coach in 2015.
Ortega first picked up the game of team handball from Christian Zaharia after graduating college. He was originally a star gymnast from the ages of six to 16, which culminated in him winning a North Carolina State Championship. Ortega started playing football during his junior year of college and ended up playing wide receiver for Kent State University and Malone College. After college, Ortega was a member of the Miami Sharks football team for four years and, in 2004, was selected for the U.S. Men's National Handball Team. Ortega served as an assistant coach to Javier Garcia Cuesta, the U.S. Men's National Team Coach, during the entire duration of the USA Team Handball Residency Program in Auburn, Alabama from 2013 to 2018.
Ortega is also in the process of becoming a European Handball Federation Master Coach, which will be completed in February of 2021, and currently serves as the head women's coach of Dutch handball club KRAS/Volendam Netherlands. He currently lives in the Netherlands with his family.
About USA Team Handball: USA Team Handball (USATH) is the U.S. National Governing Body for the Olympic discipline of Team Handball, and is responsible for the development of grassroots programs, preparation of national teams for international competition - including the Pan American and Olympic Games - as well as the day-to-day oversight of the sport of team handball in the United States. The mission of USATH is to develop, promote, educate and grow the sport of team handball at all levels domestically, and to enable U.S. athletes to achieve sustained competitive excellence to win medals in international and Olympic competition. USATH is a member of the International Handball Federation, the North American and Caribbean Handball Confederation, and the United States Olympic & Paralympic Committee, and is headquartered in Colorado Springs, Colorado.
Media Contact: Melissa Zhang | (508) 768-5649 | Melissa.Zhang@usateamhandball.org